The HP Envy 5055 Wireless All In One printer replaces the extremely popular Envy 4520, which if seen from the outside they look pretty much identical to each other, it's almost impossible to tell them apart and we can't complain about it as they look good, with a very sleek understated design that wil l blend in with any office or home decor you might have.
DIMENSIONS
The printer measures in a bit ore than
17 Inches in width
13 inches in depth
5 inches in height.
and we can say it's a fairly compact printer.
It is fairly easy to set up initially but there are a few steps however that might not be covered in the setup guide.
HP Envy 5055 has a 2 inch black and white touchscreen display in the center of the front panel, with touch sensitive buttons and a wireless indicator light on the right.
The menus in the screen are organised in a pretty intuitive way and the touch screen capability makes it simple to navigate, although we must mention that the touch screen is not so responsive compared to the one on the older 4520 that this new one replaces.
COPYING
When it comes to making copies, you can make color copies, black and white copies and a various of other options give you more flexibility. Features such as the ID card copying, resizing, and even lightening or darkening a document that is being copied.
SCANNING
To scan documents you can either use the HP easy scan software or the HP smart app on your mobile device, they both work very well. They even give you the option to scan multiple pages and join them in a single pdf file. The printer uses two 265 series cartridges and it comes with 2 starter cartridges, they are reasonably priced, however if you plan to print a lot we recommend you buy the XL versions of the cartridges which can be found on Amazon.
SHEET CAPACITY
The printer has a 100 sheets capacity paper tray on the front of the machine, the closed design ensures the paper isn't exposed and doesn't get dust inside over time. The internal paper guides are a nice feature as well, as they ensure you can fit paper ranging from a4 letter size all the way down to 4×6 photos and even number 10 envelopes.
The 5055 has also a paper holder that extends and can hold up to 25 paper sheets.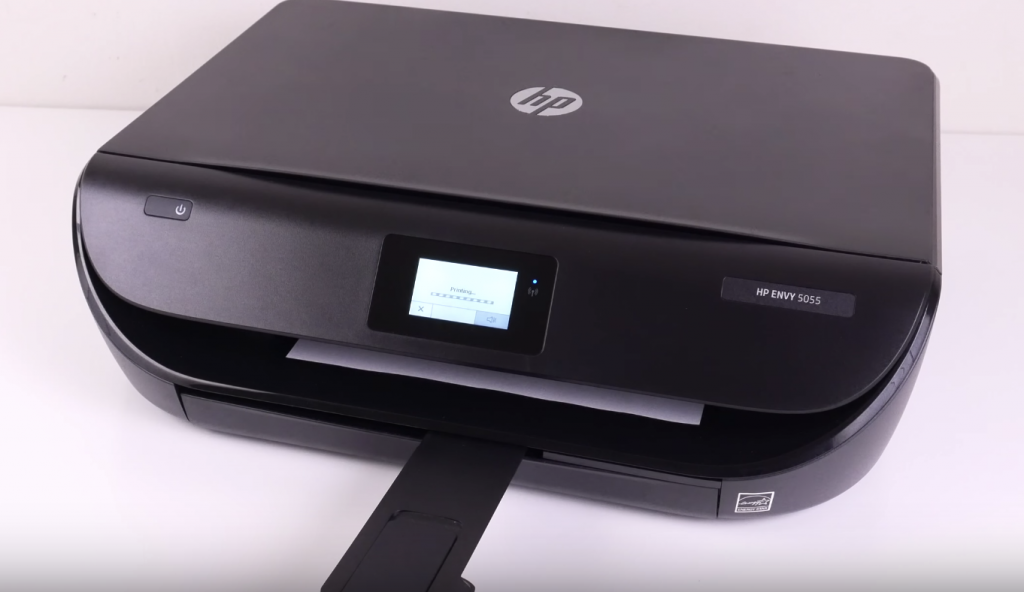 PRINT SPEED & QUALITY
When it comes to printing speed we can certainly say that it is faster than the now outdated 4520 when compared and tested for printing both Colored and black and white documents.
The speed does not compromise the quality, because the printed documents text is sharp and clear and have no smudges or imperfections. Even when printing full Color photos on semigloss paper the quality of it is really good and quite impressive to be honest considering it's a home inkjet printer.
REMOVABLE COVERS AND HATCHES
We also love the printers removable covers and hatches.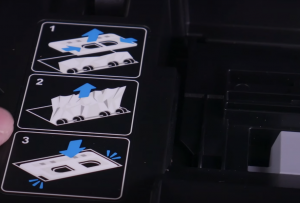 They allow you to rapidly clear paper jams and that is a very thoughtful feature.
Now since this is a wireless printer with dual band wi-fi capability and most people will use it from multiple devices on their network, hp still provides a usb port which you can connect the printer to a single computer.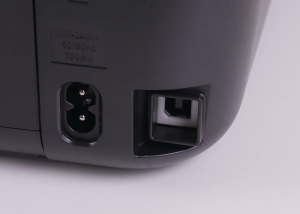 If you are looking for an inkjet printer to make prints around the house or office or even need to photo prints. The Envy 5055 is definitely one of the best printers out there on the market. It retains all the great features of the 4520 while at the same time improving speed and print quality.
If you own one of these printers I'd love to know our opinion about them and how are they holding up for you and your experience with them. Please comment below and let us know.