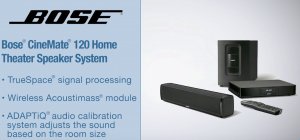 Today we are going to talk about the Bose n CineMate 120 Home Theatre System.
It has a few different components.
THE SOUNDBAR
is less than a foot and a half and delivers powerful detailed sound and a level of performance that belies its size. It is compact so it means it is a great choice for
a small or average sized room or office space.
Inside this tiny speakers enclosure are five precisely positioned powerful drivers that are helped by true space technology. Couple that with a resonant bass provided by the Acoustimass module and you will hear a compelling level of sound and spaciousness all without a massive set of wires in your space.
THE ACOUSTIMASS MODULE
This wireless module adds really dramatic low notes to all your media playing. It has a signal range of 30 feet so you can place it everywhere in your room, at the back of your tv or some place where you want to keep it hidden.
Looking at the sound design, this is where the speaker really Stands Out because it features the cutting-edge ADAPT IQ audio system. What actually is that?
Well your environment and surroundings can affect your sound. So whether you have wooden flors or walls, plush rugs or your room is just an unconventional shape for ideal sound, adapt IQ will adjust the speakers performance to the acoustics of the room so you don't have to change a thing. Once you have put the speakers where you want, just run the Adapt IQ, sit back and enjoy the consistent sound performance throughout the room.

STREAM MUSIC OVER WIFI
Another nifty feature you can enjoy with the Cinemate 120 Home Theatre System. With an optional wifi adepter you can discover and enjoy music easier than ever before. You can stream over 20 thousand different stations from around the world, songs and playlists from a personal music library as well as popular music apps like Deezer or Spotify all available via your home wifi network. And what is also a great thing is that the system also works with other bose sound touch systems to create a multi room listening experience. So go ahead and invite your friends over, because in party mode these systems work together as one to play music everywhere in your home, stream different music in different room, or create customized zones.There is a solution for all your entertaining needs.
The system includes and infrared remote control and a small control console with 4 HDMI inputs. There is a 2.4mm headphone jack as well if you need it.