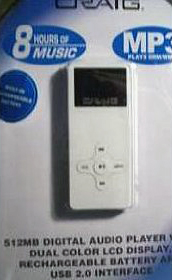 Craig Mp3 Player Review
With Christmas approaching all of us are looking for the perfect presents to buy but with the economy still in recession maybe some of us can't afford the expensive products out there, so if you are looking for a cheap good quality MP3 player than we have the right product review for you.
There are two major hurdles when it comes to buying an mp3 player for regular consumers. To start with, the mp3 player can be too difficult or complicated for the average consumer to understand. Second, it can be too expensive to fit into tighter budgets. At the same time, a number of them may not offer sufficient features for many people.
That's where Craig Mp3 Player comes into play.
Craig Mp3 Player is a low-price music player with high-quality sound and design. The newest addition comes with a number of upgrades and extra features.
The Craig CMP168C Mp3 Player fills the void that Apple and Microsoft created in discontinuing the iPod Nano and Zune. This slick player isn't as feature-packed as the Nano or the Zune, but it's very inexpensive and offers outstanding sound quality.
Its curved, slim design fits easily and comfortably into your pocket. You can see it's kind of inspired or ripped off by or from the Apple iPod.
The display is a bit smaller and not quite as good. Also the controls aren't ideal I wish there was a way to fast forward and rewind a few tracks instead of having to skip through them. But if you are not real crazy about the controls than this should be just fine.
In addition I want to bring up that the built in graphic equalizer on the display which is very cool. It's neat to see the many bars jump up and down to the tune, and the track time display is nice too. It's amazing how 'Craig' was able to get all this information nicely packed onto such a tiny screen!
The battery life is decent. The transfer speeds are good and if you run on Windows XP or above than you don't even need to install the drivers software, it's exactly 'plug & play' simply rip the CD tracks to your PC, after that select 'send to' the respective USB slot.
Every song takes exactly a few seconds to shift to the Craig. I would have liked a nicer screen and maybe nicer controls but then I guess if you are looking for more features than you should have just bought an iPod.
The Craig's great sound quality and ease of use at such a low cost makes this music player an excellent buy–just don't expect bonuses such as cool software (as with the Zune) or a family of accessories (as with the iPod Nano).