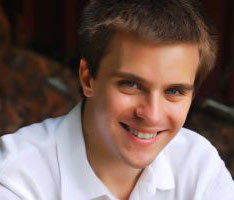 About the reviewer: John Smith is a professional product reviewer who has
reviewed over 160 of today's most popular products. John is also a technician
so he knows the importance of a good multimeter.

Fluke 117 Review
by John Smith
Quality
Accuracy
Price
Available on Amazon with 30% discount at this link here.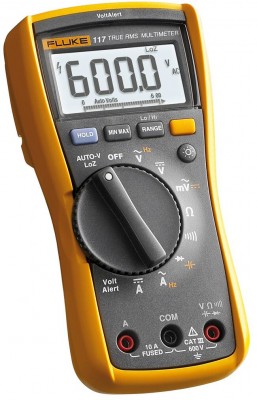 Fluke 117 Electrician's Multimeter with Non-Contact Voltage is a Compact true-rms meter for commercial applications.
The Fluke 117 is simply amazing multimeter for demanding settings like hospitals and schools and commercial buildings. The 117 includes integrated non-contact voltage detection to avoid secondary voltage detection tools for that purpose.
The 117 is top of the fluke's 110 series of multimeters. The 110 series is cheapest series available by Fluke.
The 117 is not Fluke's lowest cost Fluke Branded Multimeter.
There are other multimeters like Fluke 113, Fluke 114, Fluke 115 and Fluke 116 but the 117 is a feature rich meter and includes VoltAlertTM—non-contact voltage detection.
It comes with 3 years warranty and it's made in china unlike other fluke's high-end series that are made in USA.
Design
Compared to other Fluke multimeters it's quite smaller and compact. It weights about 400 grams.
The 117 is ergonomically designed to give you a comfort hand holding with a compact size which provides an easy one handed operation off the device.
This Multimeter is currently on sale on Amazon for nearly 30% off through this link right here.
Build Quality
Even though it's made in china it does not mean it is crap.
The Fluke 117 it's build with very high quality materials, inside soldering of the meter's circuit is first class, it has an input overload protection.
The build quality is excellent, it can survive everyday shocks. The switch range feels pretty good and has the standard fluke quality.
This meter is not designed for electronic use, it is designed for Electricians. It only features the Amps jack that can measure a 10 to 20 amp range. It is not capable of measuring low amps current values in milliamps and microamps. This makes this multimeter almost useless for electronics use. That does not mean this multimeter is not a good meter, it's just produced for a different market.
Some Specs
It has an accuracy of 0.5% DC volt + 2 counts, It's not a super accurate meter cause it doesn't need to be for general purpose electrician use.
It has a white-bluish backlight that works fine if you happen to work in poor lit areas.
Another feature this meter has got it's the low impendence capacitance measurement mode, it comes in handy for noisy capacitance measurements like long cables in a factories.
The meter's stand got all the features and options engraved on it so you don't have to refer to the manual in case you forget them.
It has an auto detect AC DC voltage feature with a fixed 600V range. The added capability to measure frequency and capacitance makes the Fluke 117 really powerful.
The Pros:
With VoltAlert – (non-contact voltage detection) there is no need for Separate voltage detector.
AutoVolt (AutoV) – determines ac/dc voltage and correctly displays voltage measurements without extra steps.
LoZ – (low impedance input) – Reduces chance of false readings due to ghost voltage.
Features true-rms for accurate measurements on non-linear loads
Measures Frequency – Measure frequency with one tool.
Analog bar graph– Better accuracy when monitoring measurement changes.
Compact ergonomic design – One handed operation.
Large white LED backlit display/larger digits – Easier to read in dark locations.
Display hold/Auto (Touch) Hold – Hold measurements for later use.
The Cons:
It's not super accurate with 0.5 % + 2 counts of Accuracy but if you are an electrician you don't need to be more accurate for commercial applications.

It does not measure milliamps or microamps


This digital multimeter is for:
As we mentioned above this meter is not for Electronic use because it has no capability of measuring low current values like milliamps or microamps.
It is made exclusively for electricians who use it for commercial applications in hospitals and schools or other commercial buildings, it's perfect for everyday jobs.
Let's take a look at all of the multimeter features.
VoltAlertTM—non-contact voltage detection
Sense the presence of ac voltage without carrying a second tool
Quickly determine proper grounding with visual indicator
Auto-V—automatic volts detection
Automatically determine ac/dc voltage—eliminating guesswork
Correctly displays the voltage measurement without extra steps
LoZ—Low impedance input
Reduces chance of false readings due to ghost voltage with new, low impedance design
Safer troubleshooting in high-energy 3-phase distribution panel with IEC 61010 ratings
Other major Fluke 117 features.
True-rms for accurate measurement on non-linear loads
20 A measurements (30 seconds momentary, 10 A continuous)
Resistance, continuity, frequency and capacitance
Min/Max/Average to record signal fluctuations
Compatible with optional magnetic hanger (ToolPak™) for hands free operation
CAT III 600 V safety rated • Large white-bluish LED backlight to work in poorly lit areas
Check out this awesome video review of the Fluke 117:

Let me show you what current owners have to say about it.
By B. Krumme (Cincinnati, OH United States)
This Fluke Multimeter was a wonderful purchase. I couldn't be happier. I bought it so I could bias tube amplifiers, but I find myself using it for other projects as well.
It is accurate, the screen has a switchable backlight and is easy to read, and I'm sure there are functions that I haven't even attempted to use. This is a great value for a multimeter made by one of the leaders in electronics testing equipment.
By jethro (idaho)
I like the other reviewers have owned many multimeters but have finally settled on fluke. I used fluke equipment in electronics school and now work in industry that demands using equipment in inclement weather. The fluke has held up great and the auto detection of DC and AC has simplified the work when switching between different circuits. I have also used this meter on weekends when working on old cars and it has worked great for troubleshooting and rewiring vintage metal.